IUR Awards
Two different categories of awards have been created to recognize the quality of research and communications in radioecology. They are awarded during International Conferences.

The V. I. Vernadsky Award honors the lifetime contribution of a man or woman to enriching radioecology science. The award is granted in remembrance of Prof. Dr. V.I. Vernadsky, who pioneered modern ecology concepts and radioecology. He established and managed major national and international research programs that were fundamental for the emergence of the radiecology field.
The IUR Yound Investigator Award gives the opportunity during International Conferences to highlight the work of young researchers, selected for both the scientific quality and the interest of the scientific information
V. I. Vernadsky Award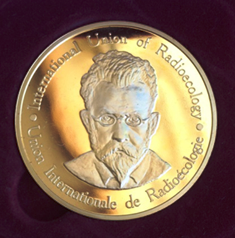 The famous natural scientist Vladimir Ivanovich Vernadsky was at the origin of new concepts in ecology, and a founder of the theory on the biosphere. As one of the founders of radioecology, the establishment of the IUR medal (Gold Medal) named after this scientist is quite justified and a rational solution stimulating creative activity in the world community of radioecologists.
Radioecology and modern ecology: A common foundation due to Vladimir Ivanovitch VERNADSKY
Rewarded in recognition of outstanding contribution to the development and dissemination of Radioecology:
5th IUR V.I. Vernadsky Award




2017

Berlin, Germany

Prof. Dr. Rudolf ALEXAKHIN, Russia

Prof. Dr. Rudolf ALEXAKHIN was (he passed away on 2 May 2018) Member of the Russian Academy of Sciences, Scientific Supervisor of the Russian Institute of Agricultural Radiology and AgroEcology (RIARAE), Obninsk, Russia

Dear colleagues!

I express my heartfelt gratitude for the honor given to me on the occasion of the awarding of the V.I. Vernadsky Medal. This award is the highest mark of distinction in the International Union of Radioecology for merits in scientific activity in the field of radioecology. I was fortunate enough to be the fifth winner among my predecessors - W. Whicker, G.G. Polikarpov, Y. Omomo, B. Salby. I am sure that on this day of this award my friends from the members of the IUR could be honored. I am proud that for 59 years I have been serving this field of knowledge, which is called radioecology. V.I. Vernadsky - this name bears the IUR medal - one of the founders of this scientific discipline, a great scientist. Radioecology is a deeply international scientific branch, and IUR is a member of the family of organizations such as IAEA, UNSCEAR, ICRP etc. I am convinced that radioecologists have yet to accomplish many glorious deeds!

Once again, I thank you for your friendly attitude.

Sincerely Yours

Rudolf Alexakhin

4th IUR V.I. Vernadsky Award




2014

Barcelona, Spain

Prof. Dr. Philos. Brit SALBU, Norway

Prof Dr. Philos. Brit SALBU is Director CERAD CoE Centre for Environmental RadioactivityHead, Isotope Laboratory Head, Section Environmental Chemistry,Department of Environmental Sciences, Norwegian University of Life Sciences, Norway

3rd IUR V.I. Vernadsky Award




2011

Hamilton, Canada

Dr. Yoichiro OMONO, Japan

Dr. Yoichiro OMONO is Executive Advisor, Former President of Institute for Environmental Sciences (IES), Aomori, Japan

2nd IUR V.I. Vernadsky Award

2008

Bergen, Norway

Prof. Gennady POLIKARPOV, Ukraine

A.O. Kovalevsky Institute of Biology of Southern Seas, IBSS,
National Academy of Sciences, Ukraine

1st IUR V.I. Vernadsky Award

2005

Nice, France

Prof. Ward WHICKER, USA

Department of Environmental and Radiological Health Sciences
Colorado State University
Fort Collins, USA
IUR Young Investigator Award



Rewarded for the scientific quality and the presentation of the radioecology research :
2017, Berlin, Germany
Christina Ganzha
Department of Aquatic Radioecology, Institute of Hydrobiology of the NAS of Ukraine
Geroyev, Kyiv, Ukraine
Adrian Iavniuk
Department of Freshwater Radioecology, Institute of Hydrobiology of the National Academy of
Sciences of Ukraine (NASU), Kyiv, Ukraine
Dawn Montgomery
Department of Environmental Engineering and Earth Science, Clemson University, South Carolina, USA
Aramrun Phakphum
School of Environment & Life Sciences, University of Salford, Manchester, UK
Polina Yu. Volkova
Laboratory of radiobiology and ecotoxicology of plants, Russian Institute of Radiology and Agroecology, Obninsk, Russia
2014, Barcelona, Spain
On the occasion of the ICRER 2014 Conference, three young researchers have been granted the IUR Young Investigator Award for the outstanding quality of their research work and reporting at the conference. The awardees were:
- Nicole E. Martinez, USA, Comparison of computational models for estimation of whole body and organ radiation dose in rainbow trout from uptake of iodine-131
- Kyo Kitayama, Japan, Temporal change in the 137Cs concentration ratio between coarse and fine particles in Fukushima
- Polina Y. Volkova, Russia, Genetic variability in chronic irradiated plant populations