[ 6-9 November 2016 - Seville, Spain ]
REPORT
The Second International Conference on Radioecological Concentration Proccesses (50 years later) was held successfully from the 6th to the 9th of November 2016 in Seville (Spain) in the installations of the Spanish Nuclear Accelerator Centre (CNA), organized by the University of Sevilla and the University of Gothenburg.
160 participants from 35 different countries over the world attended to the conference.
During three intense days a total of 6 invited lectures, 45 oral communications and 120 posters were presented. The invited lectures were given by Prof. Brenda Howard (UK), Prof. Bertil Persson (Sweden), Prof. Fernando Carvalho (Portugal), Prof. Brit Salbu (Norway), Prof. Francois Brechignac (France) and Prof. Elis Holm (Sweden), and it is remarkable the fact that following the call of the organizers, the number of young radioecologists participating actively in the conference was quite high demonstrating the health of the radioecology.
All the presented works in the conference will be summarized in a book of proceedings to appear in 2017, and a selected of number of papers will be published in a special issue of Journal of Environmental Radioactivity.
The final program of the conference and the book containing the abstracts of all the communications (oral and poster) can be downloaded from the webpage of the conference http://congreso.us.es/radecolconp2016/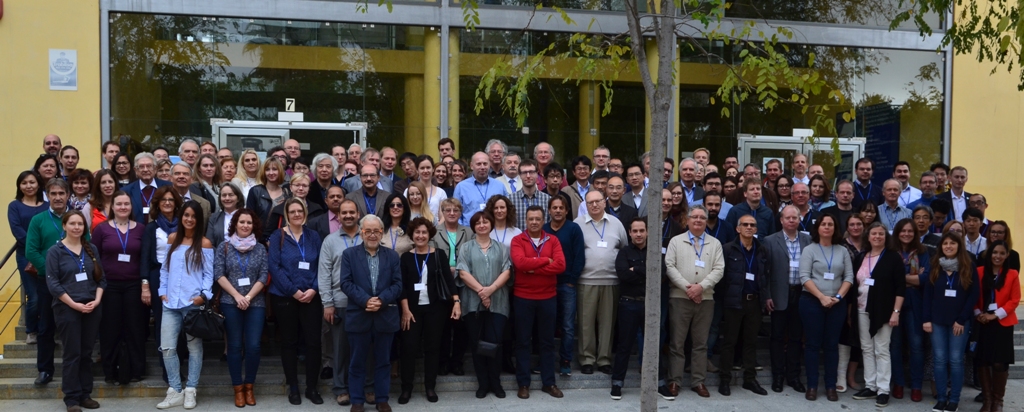 Aim of this Conference
In April, 1966 the first international radioecology conference was held in Stockholm as a consequence of radioecological studies following the nuclear tests in late 1950's and early 1960's. Participants came mainly from the Nordic countries, USA and the former USSR and over 100 papers were presented and the proceedings contained 1016 pages. This conference was very successful and it played an important role in radioecological research in the following decades.
There have of course been several other conferences involving radioecology since 1966! This conference will however focus on radiological concentration processes in air, the marine and fresh water environment as well as the terrestrial environment. We expect that the conference will provide the scientific community with the most recent radionuclide processes in the environment and concentration factors, distribution factors and transfer factors.
IAEA publications are available containing extensive tables devoted to concentration factors, transfer factors, etc. for the marine and terrestrial environments. These tables are of great value for modelling purposes but they include no scientific expla-nation of the concentration pro-cesses involved. This aim of this conference is therefore, in addition to revise data, to also provide such understanding.
CONFERENCE WEBSITE: http://congreso.us.es/radecolconp2016
Committees
Scientific Committee


Nick Baresford (United Kingdom)
François Brechignac (France)
Fernando P. Carvalho (Portugal)
Mats Eriksson (Sweden)
Manuel García-León (Spain)
Rafael García-Tenorio (Spain)
Jose Marcus Godoy (Brazil)
Tom Hinton (Japan)
Elis Holm (Sweden)
Brenda J. Howard (United Kingdom)
Valery Kaspharov (Ukraine)
Pere Masqué (Australia)
Christopher Raaf (Sweden)
Per Roos (Denmark)
Brit Salbu (Norway)
Dagmara Struminska-Parulska (Poland)
Hirofumi Tsukada (Japan)
Hildegarde Vandenhove (Belgium)

Local Committee


University of Seville

Rafael García-Tenorio
Guillermo Manjón
Ignacio Vioque

University of Gothenburg

Elis Holm
Juan Mantero